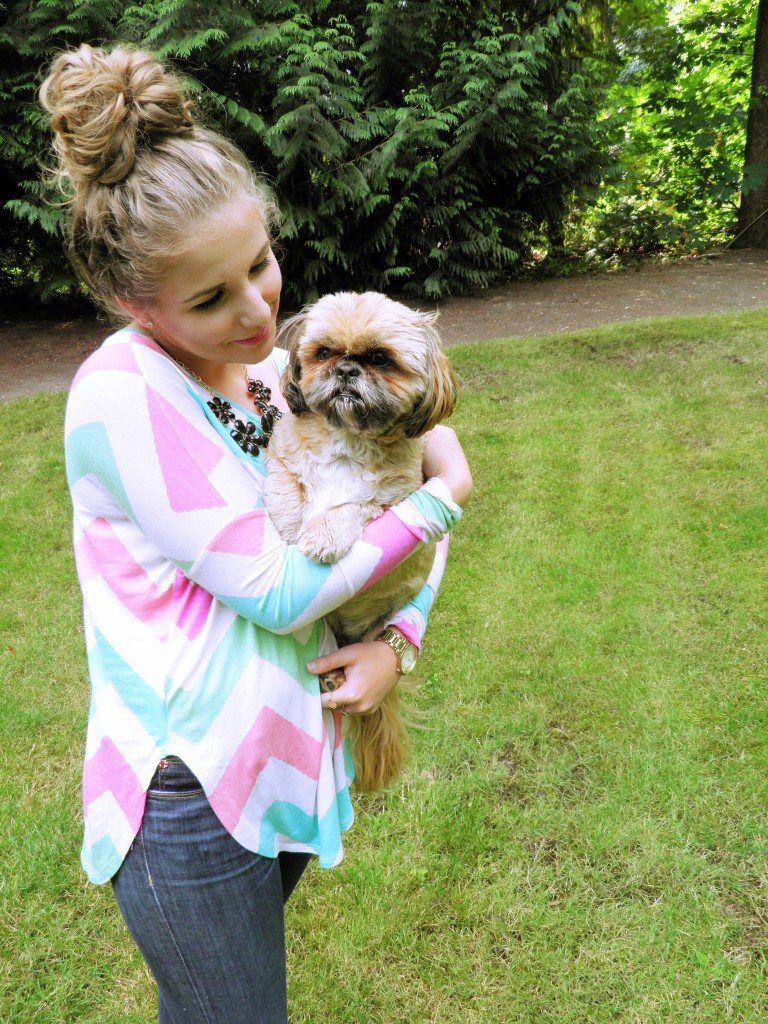 Introducing my new model: Tucker the Shih Tzu! I love this little guy so, so much even though he's a lazy old man. He was grubbing around outside and chasing down bunnies while I was snapping some pictures for this post so I had to drag him in. This is the only shot I got where he doesn't look completely pissed off. He's so silly but I adore him!
Anyways, I was generously sent this gorgeous top from Perle Market a few days ago and have to admit I've worn it almost every day since then. I can't help it – it's so versatile! I've worn it while I was running errands, when I went over to my boyfriends house for a movie night, and out to lunch on a date with him. It can be dressed up or down but keeps you comfy no matter what. I also love the bright colors in the chevron pattern – it brightens up the whole look.
Today, I was just running some errands so I wore my comfiest Hudson Jeans with my brand new white Converse sneakers. I added a beautiful statement necklace from Flourish Boutique (similar here) to polish off the whole look. I threw my hair in a messy top knot and I was all set!
I can't wait to wear this top in the winter because I think it will provide a much needed pop of color but also keep me warm and look great with leggings and boots. Like I said, this top is so versatile – I want one in every color and pattern imaginable!
If you love this top as much as I do, check out Perle Market's "Spring Day Sorbet" piko. It's actually on sale right now for only $19.99 AND you can get 15% OFF the whole site using the code "madeleinespeeps"
Perle Market has super cute and affordable clothes, accessories, and more. They are on a mission to find the best deals out there so that you can keep more money in your pocket (which I really appreciate!).
Get 15% OFF using the code "
madeleinespeeps"