A retired art teacher of 32 years, Donna Johnston spends her winters in Texas, her summers in Michigan, and free time making incredible sorority jewelry. Donna has been a member of the Greek community for over 60 years! She is a member of Pi Beta Phi – passing her legacy down to her granddaughters. Using them as her inspiration, she began designing these beautiful pendants that she sells through her Etsy shop. Please check out her amazing sorority pendants that are only $19.50 plus $5 shipping here.
Completely her own designs, Donna draws them first in ink, sends them to a lazer to cut them out of brass, and then she finishes the cutting process by filing each one and tumbling them for about 18-24 hours. After this, she puts a bail on each and they are plated in gold or silver. It's incredible to think that each stunning pendant has so much thought, care, and time put into it.
Donna was beyond generous to send me two pendants for my own sorority, Kappa Alpha Theta. When I first opened the package, my breath completely left me. I had seen her designs online, but seeing them in person is a completely different experience. The attention to detail is so clear in the design and quality of the pendants.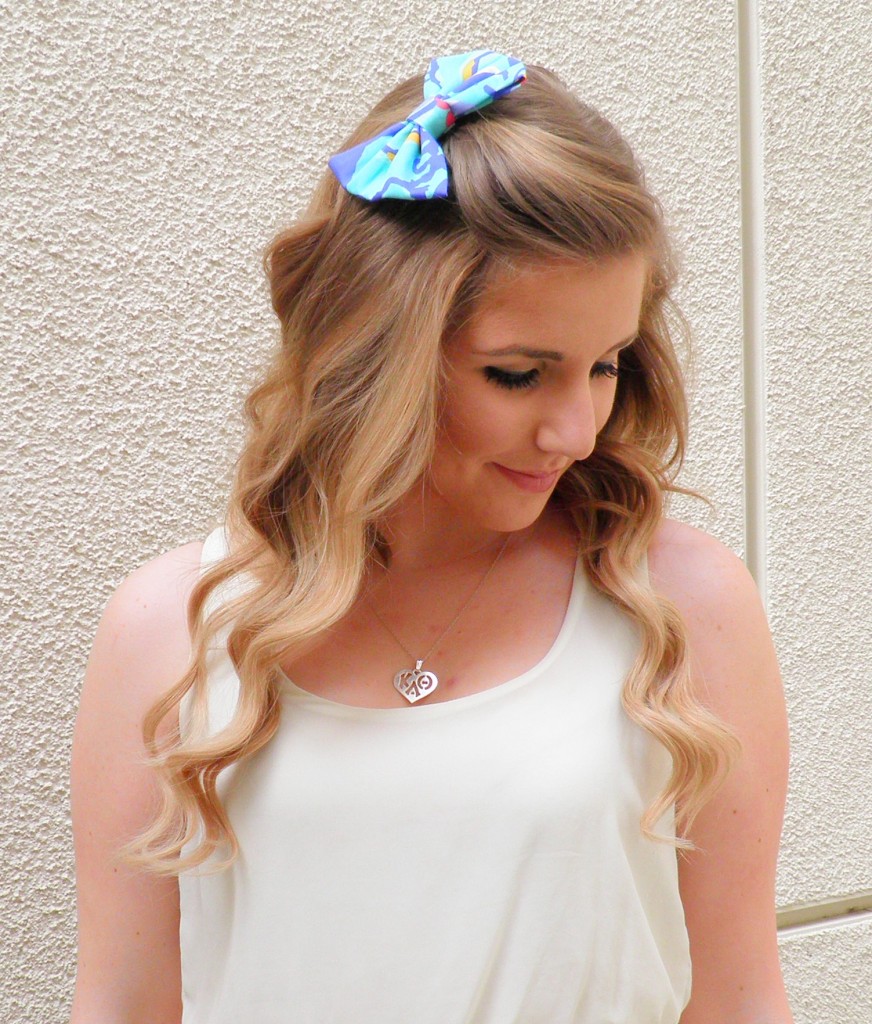 While Donna's jewelry takes center-stage, I also want to talk about Donna herself because she's an incredibly inspiring woman. I had the incredible privilege of being able to chat with her over email and learn a little about her life. The legacy Donna has left behind her is absolutely remarkable. I respect her so much.
Here are some of the many jobs Donna has had:
Art teacher for grades K-12
Kindergarten teacher
Third grade teacher
Fifth grade teacher
Seventh grade teacher
Professor at Bowling Green University
Professor at Eastern Michigan University
Professor at Toledo University
Workshop teacher at local schools
Teacher at the Toledo Museum of art (children and adult classes)
Supervising teacher for student teachers
Elementary Principal
Author of her own book, "Now This is Art!"
Art gallery owner
I don't know about you, but if I were to accomplish 1/4 the amount Donna has, I would be incredibly satisfied with my life. She also teaches art classes from her home and participates in art shows. She also attends various art classes like the watercolor class she's enrolled in now! I highly recommending checking out her book – it's great for young educators looking for new ways to teach art. Donna has put so much time and thought into it, it won't disappoint.
Donna shared this quote with me from somebody she met at a meeting a few years ago: "We are always in the process of becoming!" Donna lives by this and firmly believes that constantly learning is what keeps one young in mind and heart.
I am beyond inspired by this woman. At almost 85 years old, she still has a thirst for knowledge. Her kindness, generosity, and passion shine through her incredible life's work. I hope to live as full of a life as Donna has. She has inspired me to follow my passions and have the heart of a servant. Her dedication to education is remarkable. I am sure she has changed the lives of so many. I can only hope that I lead as a fulfilling of a life as Donna has.
Working with her has been an incredible pleasure. I hope that everybody reading this checks out her sorority jewelry store as well as her personal art store. I wish there was some way I could give back to this woman who has inspired me more than she knows.
Donna is licensed to make pendants for the following sororities:
Alpha Chi Omega, Alpha Delta Pi, Alpha Gamma Delta, Alpha Omicron Pi, Alpha Phi, Alpha Sigma Alpha, Alpha Xi Delta, Chi Omega, Delta Delta Delta, Delta Gamma, Delta Zeta, Gamma Phi Beta, Kappa Alpha Theta, Kappa Delta, Kappa Kappa Gamma, Phi Mu, Phi Sigma Sigma, Pi Beta Phi, Sigma Delta Tau, Sigma Kappa, Sigma Sigma Sigma, Zeta Tau Alpha
Please check out her amazing pendants that are only $19.50 plus $5 shipping here.
I received these pendants from Sorority Jewelry free of charge. All opinions are my own.