If you're familiar with my blog, you know that I love Etsy. I appreciate that it is a platform that artists can share their creations and profit from truly beautiful pieces. Sharing the stories of small business owners is one of my biggest joys. I have found a few of my favorite shops on Etsy like 8:38 Designs and Plum Paper (see my posts about them here and here).
I wanted to share two more favorites with you: Pure Impressions and Vintage Stamp Jewels.
Pure Impressions (website here) was created by Laura Hunter. Originally from Salt Lake City, Utah, she now lives in Casper, Wyoming. Laura was such a sweetheart to send me the rings, bangles, and keychains pictured below! She loves creating handmade jewelry and says it is one of the most rewarding things you can do. She is also a full-time mom with a full-time job. I love stories like Laura's because despite her extremely busy life, she still finds time to do what brings her the most joy – which in turn brings her customers joy! Not only will she work with you to create exactly what you want, she will also make and ship everything super fast.
I've loved working with her and highly recommend her store – it's perfect for bridesmaids, graduation, wedding, and birthday gifts!
Follow Pure Impressions on Facebook, Twitter, Pinterest, and Instagram!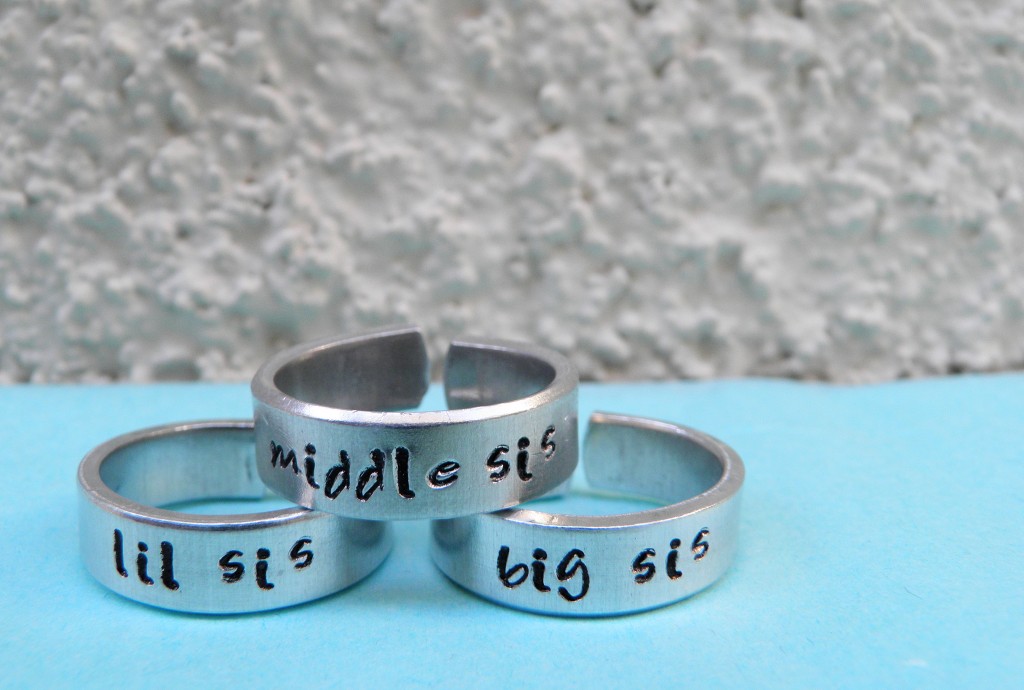 Vintage Stamp Jewels was created by Monica, a stay-at-home mom of three. In her spare time, she loves to create this beautiful jewelry.  Her pieces are perfect for brides and bridesmaids.
I requested a layered necklace for my older sister who was recently engaged. The first layer of the necklace had a simple elegant heart and the second had her new initials "CLS." My sister loved it so much.
Monica was so generous and threw in a stunning personalized ring for me as well. I wear it everyday and receive so many compliments on it. She is so accommodating and you can tell she genuinely cares about getting her customers exactly what they want.
Follow VSJ on Twitter and Facebook!