This is a sponsored post by Affinitas Intimates and Her Campus Blogger Network. All opinions are my own.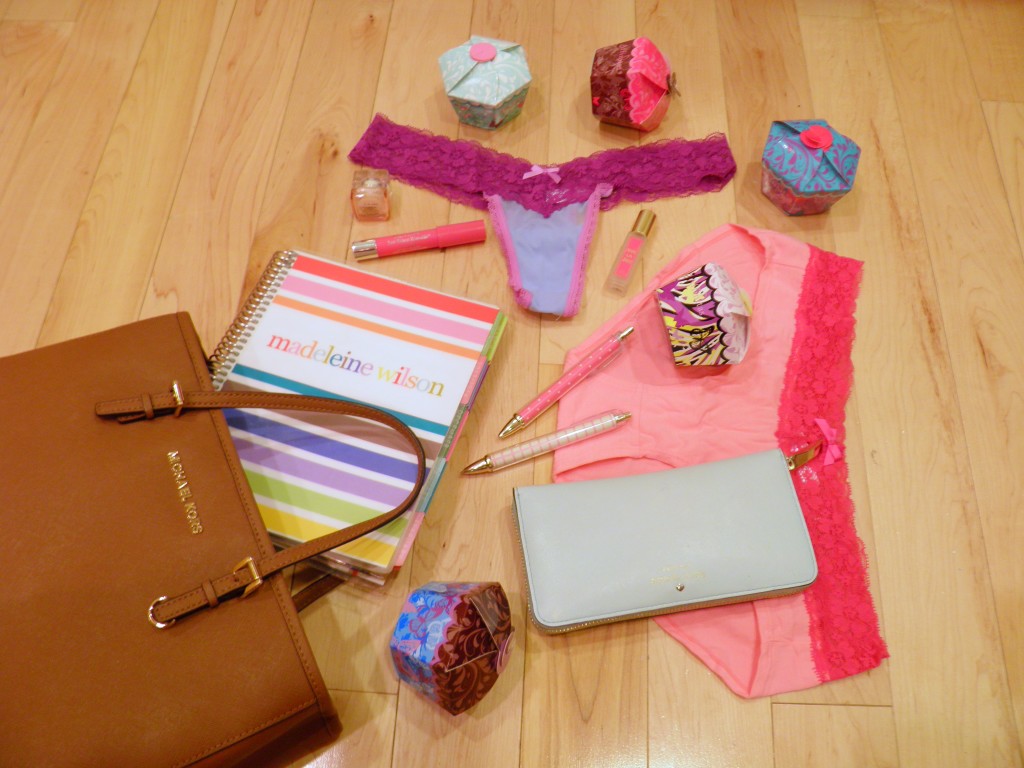 What's in your bag? I can't live without my travel sized Viva la Juicy perfume, Softlips Cube lip balm, Kate Spade wallet, Erin Condren planner, pens,  Revlon lip stain, and Affinitas Cupcake Panties.
If I don't write it down in my planner, it might as well not exist. I completely rely on my planner for staying organized and on-track throughout the week. It's seriously a life-saver! I would recommend for any college girl or busy woman to get a planner – trust me, it will change your life.
So you might think I'm crazy for keeping panties in my bag, but let's be honest: who hasn't felt awkward stuffing a change of panties in your purse for after a workout or a sleepover with your boyfriend? It's like carrying tampons around – you're always afraid it might fall out of of your purse but there's really no reason why it would be embarrassing since we all deal with that. But at the same time, somehow it is super embarrassing! Affinitas generously provided me with a sample of their brilliant solution to this issue – they have packaged their affordable, sexy, and comfortable panties in adorable, clever packaging. See the cupcakes spilling out of my purse? Yeah, those are panties in disguise.
If you're busy like me, your everyday purse might resemble something Mary Poppins carried around – you have literally everything you could possibly need in any situation stuffed in there. This bag goes with you to class, work, the gym, your boyfriends house, out to coffee with girlfriends – everywhere! Instead of smushing your undies to the bottom of your bag and potentially getting them dirty with crumbs or something (because let's face it – you definitely have snacks in your bag too), you can have them hidden and safe in this super cute and practical packaging.
I know this may sound silly to some people, but when I heard about Affinitas' packaging idea, my mind was blown. Who thinks of that?
Anyways, I've shared what's in my everyday bag – now what's in yours?
PS – Scroll to the bottom for a chance to win $1,000!
Good news everybody! Affinitas is hosting a Scholarship Sweepstakes! You can enter to win a $1,000 scholarship and 16 Cupcake Panties by entering in three easy steps.
Enter to win $1,000 in THREE steps!
Go to www.wearacupcake.com to register and find instructions.
Follow Affinitas on social media of your choice (FB, Twitter, Instagram)
Post a pic of your acceptance letter next to your congratulatory cupcake and tag @Affinitas and hashtag #wearacupcake
Good luck!