About Warby Parker
Warby Parker is an eyewear company with a mission to not only sell affordable and stylish glasses, but to also give back by donating one pair of glasses to someone in need for every pair sold. Originally created by four friends, Warby Parker's innovative business strategy has resulted in a memorable and quirky company personality, a strong sense of corporate responsibility, and high-quality products. From their authentic desire to help others to their marketing strategies like the home try-on program, it's no wonder Fast Company has named them the number one most innovative company in retail. Read the entire article here.
Needless to say, when Warby Parker reached out to me to write a post about their Spring and Palm Canyon Collections, I jumped at the opportunity.
At-Home Try-On Program
To learn more about their glasses, I ordered 5 pairs (3 frames, 2 sunglasses) through their at-home try-on program. This is one of my favorite qualities of Warby Parker. Their at-home try-on program allows you to select five frames you want to try on, they send them to you (their shipping is lightning fast), you try them on, and ship them back for free after five days.
They have a hashtag #WarbyHomeTryOn where people tag pictures of themselves wearing their five choices and people can weigh-in on what looks best (including Warby Parker!). I could go on and on about what an amazing concept this is. I highly recommend participating in this program even if you do not end up purchasing a pair. It's easy, fun, and free!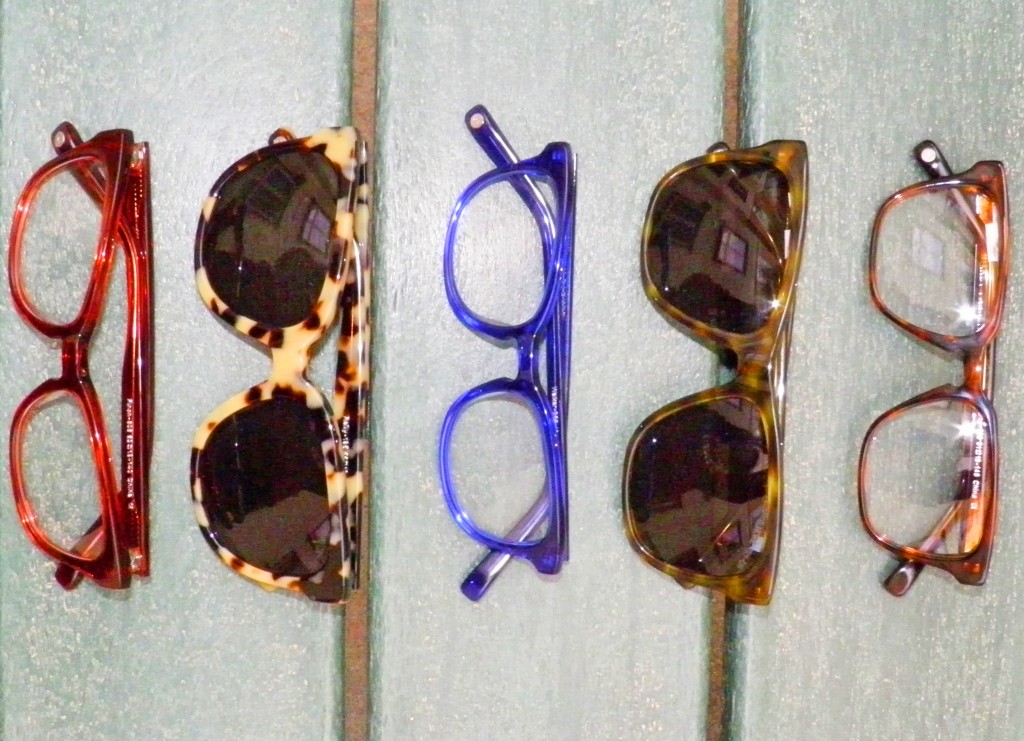 Warby Parker's Spring Collection
All of the frames and sunglasses I ordered through the at-home try-on program are part of Warby Parker's Spring Collection. With eight new shapes and six new colors, there's a little something for everybody. It's such a whimsical collection, I love it!
I surprised myself because I actually loved every single pair I tried on. Who would have thought a bright blue frame would look good? Personally, I liked their "Finch" frames and "Lowry" sunglasses the most. Their over-sized qualities made my nose look thinner and smaller (always a plus) and were fun enough without distracting from the rest of my face.
Which ones are your favorite? Tweet at me or comment below! 
Warby Parker's Palm Canyon Collection
Unfortunately, the Palm Canyon Collection frames were not available through the at-home try-on program. Regardless, I still love this collection! It's extremely light, refreshing, and playful. Inspired by Palm Springs, each pair makes you yearn for summertime – or at least spring break!
My favorite design concept of this collection is the light-wash wood on the "Wheeler" sunglasses and the fact that no two pairs in this collection are alike! The warm, resort feeling of this collection will brighten up any outfit.
Warby Parker not only produces amazing eyewear, but they have such a great mission backing them. I'm excited to see where this company goes from here. They're really going to make an impact in the world!
Please check out their other frames in other collections as well! I strongly encourage you to participate in their free at-home try-on program even if it's just for fun!
Warby Parker, you're doing it right.
I was not paid for this review. No samples were provided to me by Warby Parker. All opinions are my own.