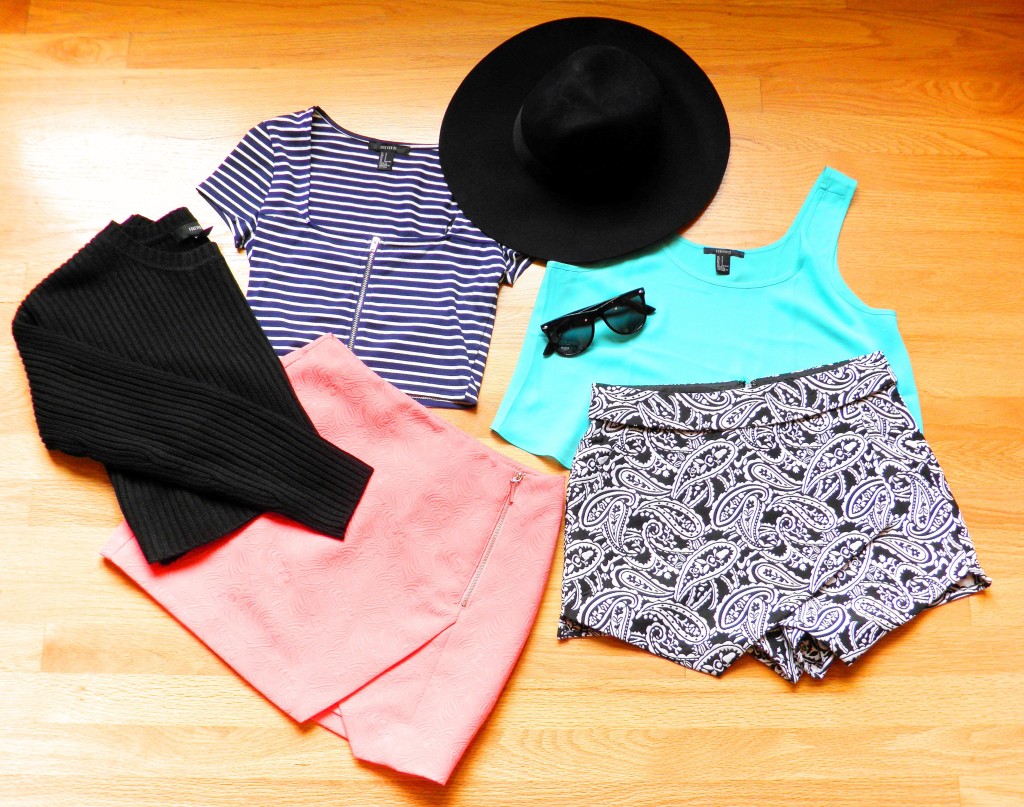 FASHION HAUL TIME!
I finally had the opportunity to go spring wardrobe shopping. My friends all make fun of me for this, but I'm addicted to business casual. There's no harm in that, right?
"You can never be overdressed or overeducated." – Oscar Wilde
Everything you see in these pictures is from Forever 21 except the sunglasses, which are from Nordstrom.
How I plan on styling these items:
The black crop sweater looks amazing with button-down collared shirts. It will be great for those cooler Seattle mornings, especially when I'm running around downtown for my internship this summer.
The navy striped crop top looks divine with the peach asymmetrical skirt. I love navy and peach together! The stripes combined with the floral fabric pattern of the skirt are a fun way to mix patterns without clashing.
I also love the asymmetrical skirt because I can see it being paired with a basic white tank and nude blazer. Polished off with some basic nude pumps, it will be the perfect business-casual outfit.
I died when I saw this black floppy hat! If you read my outfit of the day post from March 26th, you can see me wearing it already. I was so eager to wear it that I put it on as soon as I walked out of the store. It's such a simple way to add a touch of mystery and high-fashion to any outfit. Oh, and it can cover up a bad hair day like nothing else! (but pshhhh, I never have those…)
I usually hate paisley, but this black and white skort makes it look so elegant. Yes, you heard right – it's a skort. We all wore them when we were little so when we were playing outside and our skirts flew up, nobody would see our panties. Children-at-heart adults rejoice: they're making a steady comeback in a more classy fashion. I'm so excited to wear this with a black blazer for my internship. It's stylish, but not too distracting or informal.
The blue crop top is such a lovely color, it's hard to resist. It also is made out of chiffon, so you can easily dress it up. Since high-waist pants and skirts (and skorts!) are really in style right now, it's important to have some dressier crop tops that don't show your belly.
Finally, I had been wanting a pair of black, wayfarer-style sunglasses for a while now. I found these at Nordstrom and was shocked to see they were a steal at only $12! They go with everything and will be the perfect accessory as the sun starts to come out more.
Whew! Overall, I spent $112. Now that may seem like a lot, but for two really nice skirts, two crop tops, a sweater, a hat, and sunglasses, I'd say that's a steal. For reviving my wardrobe for the spring and summer, I'd say I did a pretty fantastic job bargain hunting. These pieces are all very versatile and I can't wait to start wearing them!