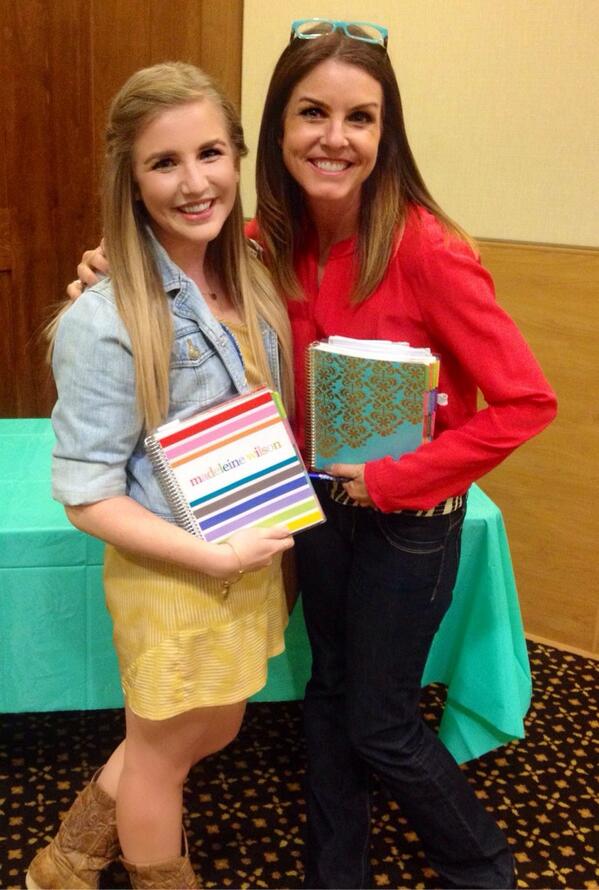 I had the incredible privilege of not only hearing Erin Condren speak yesterday, but also meeting her in person. For those of you who do not know who she is, Erin Condren is the mastermind behind an incredible stationary and home/office supply company called Erin Condren Designs. Essentially, all of the products aim at helping customers live a more organized life – enabling them to be more productive and happy.
I have been obsessed with their life planners for a long time now and have always wanted more Erin Condren products than I can afford. I knew Erin was a powerful voice for women – especially young professionals – but I did not fully grasp to what extent until I heard her speak at an event held by Chapman University's Delta Gamma chapter and Panhellenic Council.
Erin started off her talk with a story about a "contract" her and her friend created in Spanish class in high school. The contract essentially explained that Erin vowed to be a successful business woman with an equally successful husband and two healthy children by the time she was in her mid-thirties. This contract came with a concrete promise – that she would give her friend $500 if this were not to come true.
I cracked up at this because it sounds like something I would do. I have this plan for myself. Without diving into too many personal details, I want to have a stable and successful career, be married to the man of my dreams, and hopefully have a few kids by the time I'm in my mid-thirties. That plan is a little intimidating considering that is only about ten to fifteen years down the road…yikes!
Anyways, Erin goes on to explain how sometimes life does not always go how we plan and although we may have one idea of how our life will turn out, something will usually happen to change the course of our lives no matter what. I have been going through a phase lately where I am questioning whether or not I should be going into public relations. Well, not really questioning that, more just wondering how I can use that to help others. I also have found a passion for bullying prevention and women's empowerment, so I have been struggling with how I can channel those two passions into a career.
Erin discussed how when you start out in the real world after graduation, sometimes the work that you do is not always easy or fun. She explains that the key is to be a "sponge." It is your job to use each experience – even the negative ones – to benefit your development and to truly soak up everything you are learning. You might have a terrible summer internship or a nasty boss, but you have to harness that experience and use it for something that will benefit you.
One of the things she also emphasized was that when she started her business, she did not have a business plan or all of the skills required to start a company. She stressed the importance of asking for help – finding people who have those skills that you may lack. There is no shame in seeking help from others because if you try to do everything on your own, you will fail. A key part of this is finding  a powerful life partner that will be supportive and encouraging of you. That is far down the line for me, but it is definitely good to keep in mind.
Erin said that "nobody plans to fail, they just fail to plan." I agree with this because anybody can have a great idea about how they want to change the world – it takes a certain person with a specific plan and enough determination to actually execute that idea in a successful and influential way.
As somebody with an entrepreneurial heart looking to start my own business and pave my own path, Erin's story was incredibly encouraging. I felt relieved that I did not have everything planned out yet. I felt comforted by her story and humble beginnings. It gave me hope and encouraged me to think that maybe, just maybe, my dreams are not as scary as I think they are.
Between her clear joy in what she does and inspiring story, I am just blown away by Erin. I feel so grateful to have had the opportunity to hear her speak and meet her. I hope to one day be as gracious, successful, genuine, giving, and humble as she is.
Erin, if you ever read this (I would be so honored if you did!), I hope you know how much you have impacted me. Thank you for inspiring me and being an incredible example of a strong and powerful woman with a kind heart. I am forever grateful and genuinely hope our paths cross again soon. Until then, I will continue to write down my every task in my trusty planner. I am also much more productive and successful when I have an action-packed schedule and as cheesy as it sounds, your life planners have seriously changed the way I organize myself. I'm so sorry for completely fangirling over you. I just really appreciate everything you have done to encourage me. Thank you for everything, Erin!