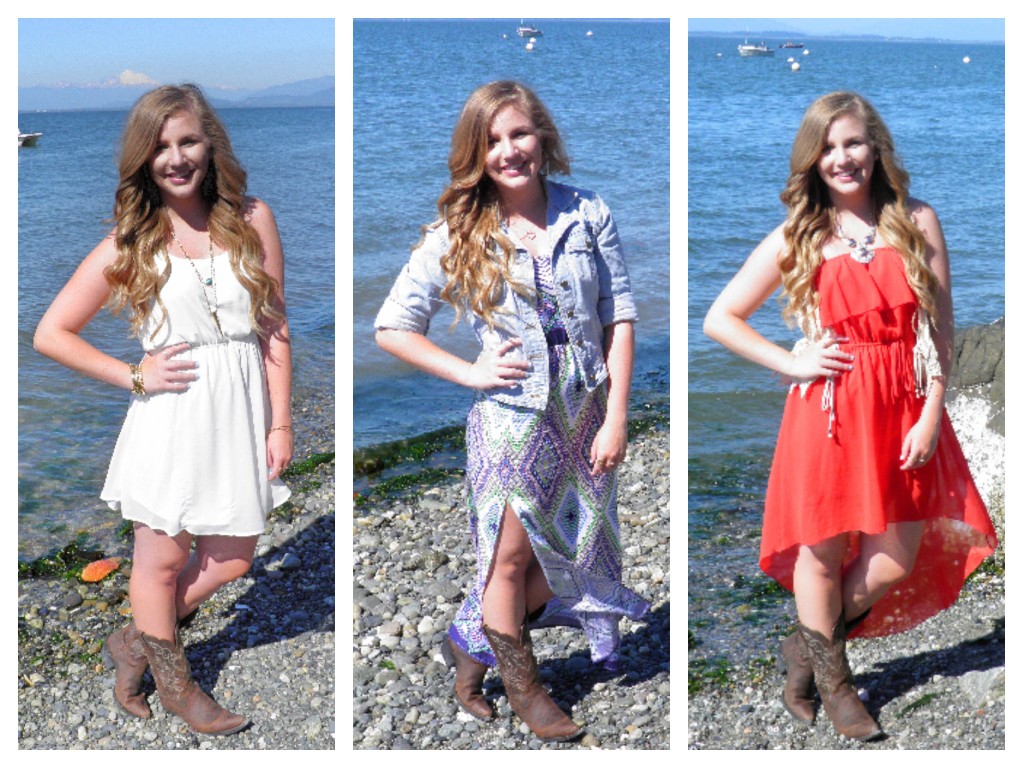 Ever wonder how to style cowboy boots with dresses? I received this gorgeous pair of boots from Country Outfitter to style with different dresses and it was so much fun! (psssst – want $20 off a pair of boots? click here!)
Cowboy boots can be worn with almost everything and that's what makes them so great. You can wear them as work boots when you're grubbing around outside or you can dress them up for a date night – the options are endless!
I styled my boots with three different types of dresses – a boho short dress, a casual maxi, and a fun and flirty high-low dress!
Boho Vibe
I adore this dress from Texas Roots as you can probably tell since it's make appearances in a few other posts of mine. It's so light and flowy which makes it extremely versatile. I've worn it to my sorority formal but you can also dress it down as I have here.
I paired the dress with a boho crochet cardigan from T.J.Maxx and accessories from Charlotte Russe. The boots add just the perfect finishing touch to the whole outfit – giving it a boho yet country vibe.
This is by far one of my favorite outfits in my whole wardrobe and now I have the perfect boots to go with it!
Casual Maxi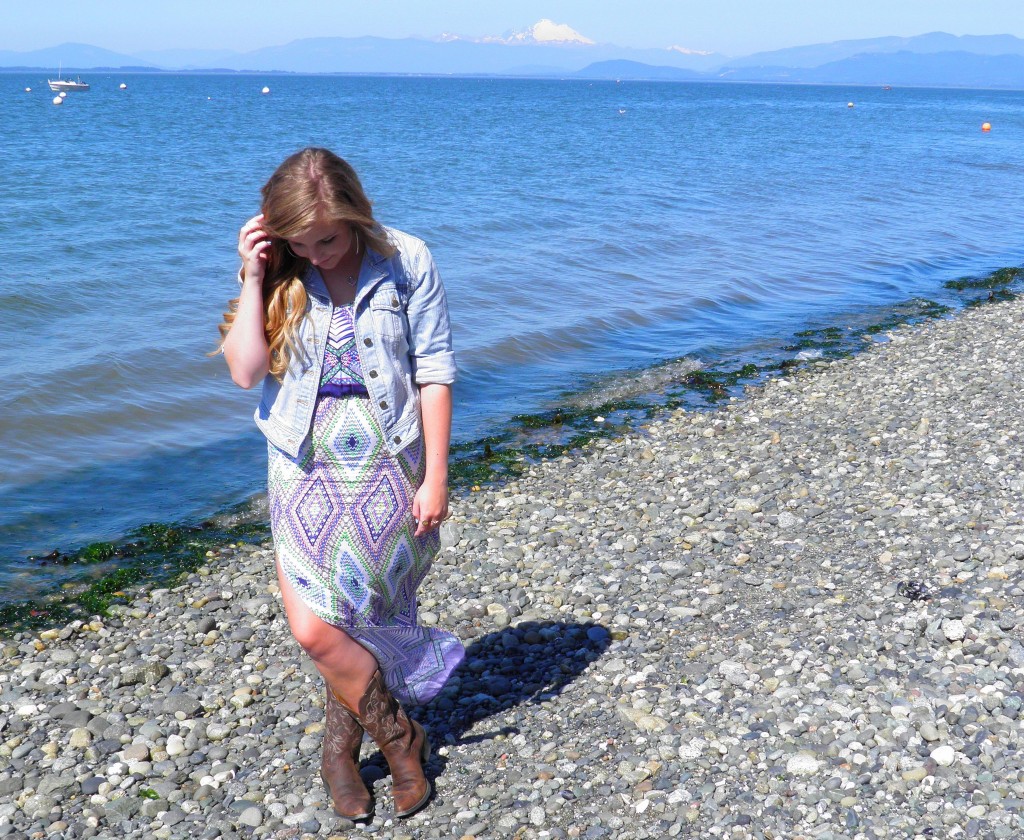 Another way to wear cowboy boots is a more casual look like this. I absolutely love the pattern on this Charlotte Russe print maxi dress! It has a little bit of that country vibe and the slit up the leg adds a little allure. I paired it with a denim jacket to make it a little more casual but you could also dress this outfit up by adding some nice earrings or a chunky necklace.
I normally wouldn't put cowboy boots under a maxi dress just because it would get really hot, but the leg opening of this dress showcases the boots beautifully as well as provide a little ventilation.
Fun and Flirty High-Low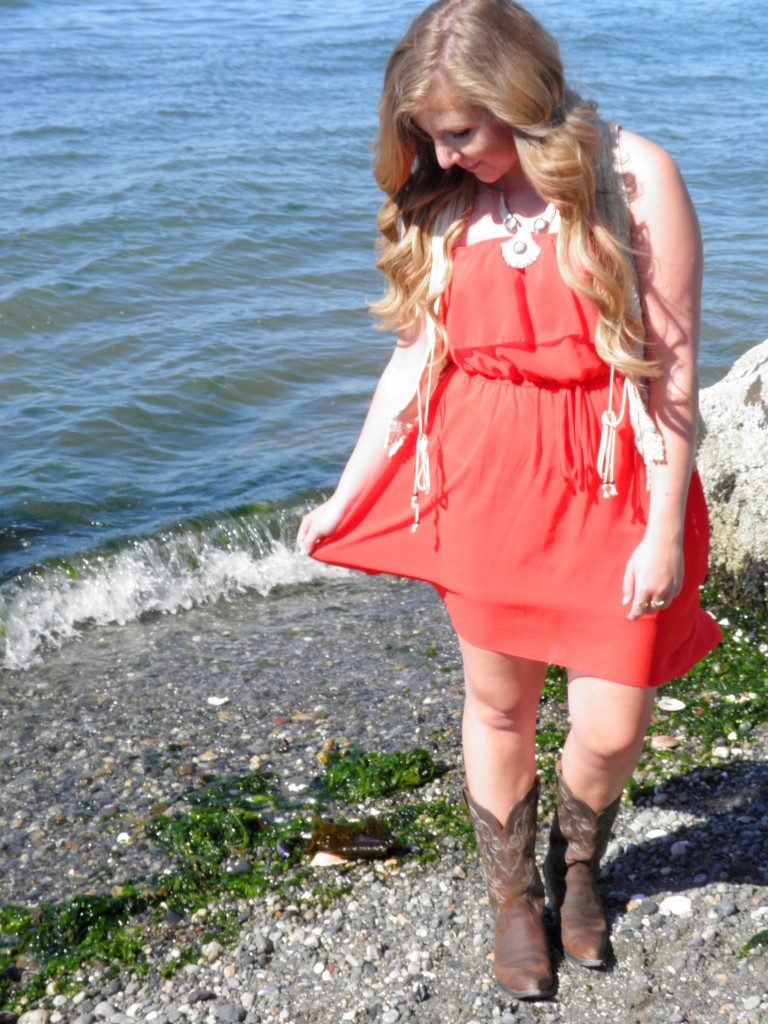 This is such a fun look! This red high-low dress was actually given to me by my older sister as a hand-me-down and it fit like a glove. Pairing it with this beautiful crochet and lace vest gives it a more relaxed look. I love how the chunky necklace from Charlotte Russe adds a little visual interest up towards the face.
Once again, the boots make the outfit! While you could definitely rock this outfit with some sandals, I think the boots go so well with it. Cowboy boots look amazing when paired with high-low dresses and skirts because they make it a little bit more casual without looking sloppy. The whole look is effortless!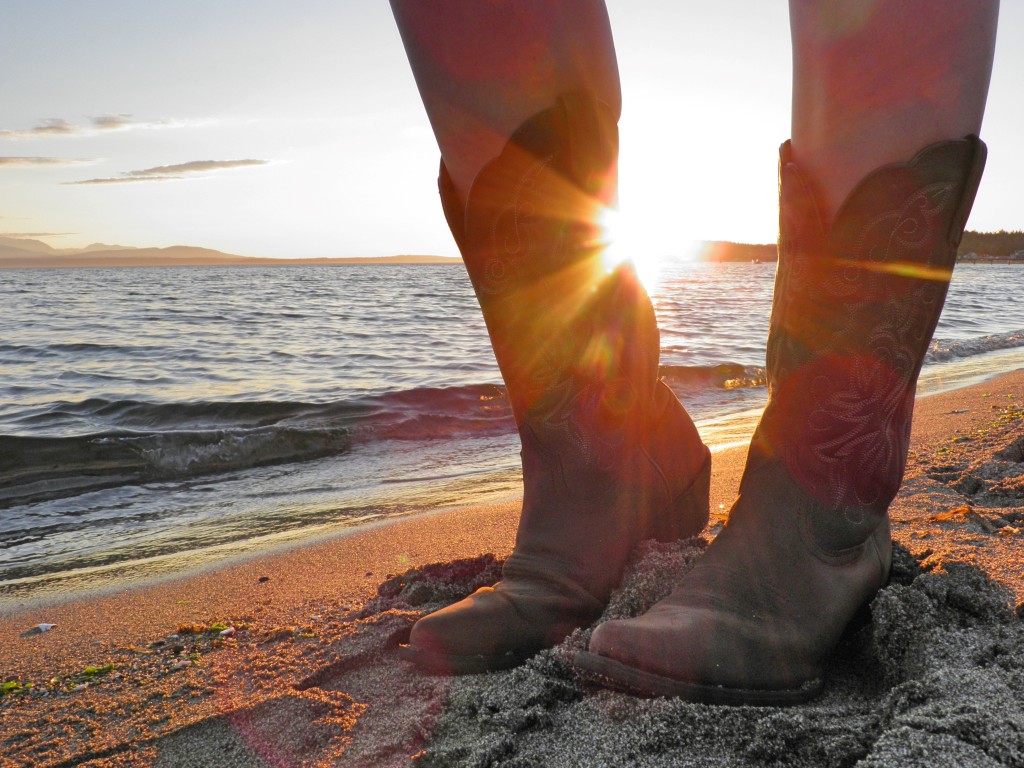 Want $20 off a pair of boots? Click here! Country Outfitter has some of the most beautiful and fairly priced boots I've ever seen. It was so hard to pick just one – I'm sure I'll be back for more!
I had so much fun with this post. I was tired of taking my own pictures, so I recruited my boyfriend to take them for me. We laughed so much and had such a great time doing it – he's truly a saint. I know there's so many famous bloggers who secretly have their boyfriends behind the camera and now I know why. There's nothing better than having somebody who loves you, knows you well, and  thinks you're beautiful to take pictures of you!
This post was sponsored by Country Outfitter. I received the pair of boots for this editorial post and received compensation. I also received the dress from Texas Roots free of charge for a post. All opinions and images are my own.