To prolong the life and function of your makeup brushes, you must take care of them. A big part of that is washing them correctly, so I'm going to show you exactly how to do that! Until about a year ago, I had no idea that you were supposed to wash your makeup brushes. Literally. No. Clue.
Lucky for me, I had some really stellar Nordstrom brushes that lasted me from highschool until now. It wasn't until a few weeks ago that I received a new set as a gift that I realized how dingy my old brushes were.
Anyways, I highly recommend washing makeup brushes with baby shampoo. It's a weird thing to use, but I promise it works. It's incredibly gentle on the delicate bristles.
Follow the steps below to clean makeup brushes! If this guide was helpful, please let me know by sharing it! Thanks!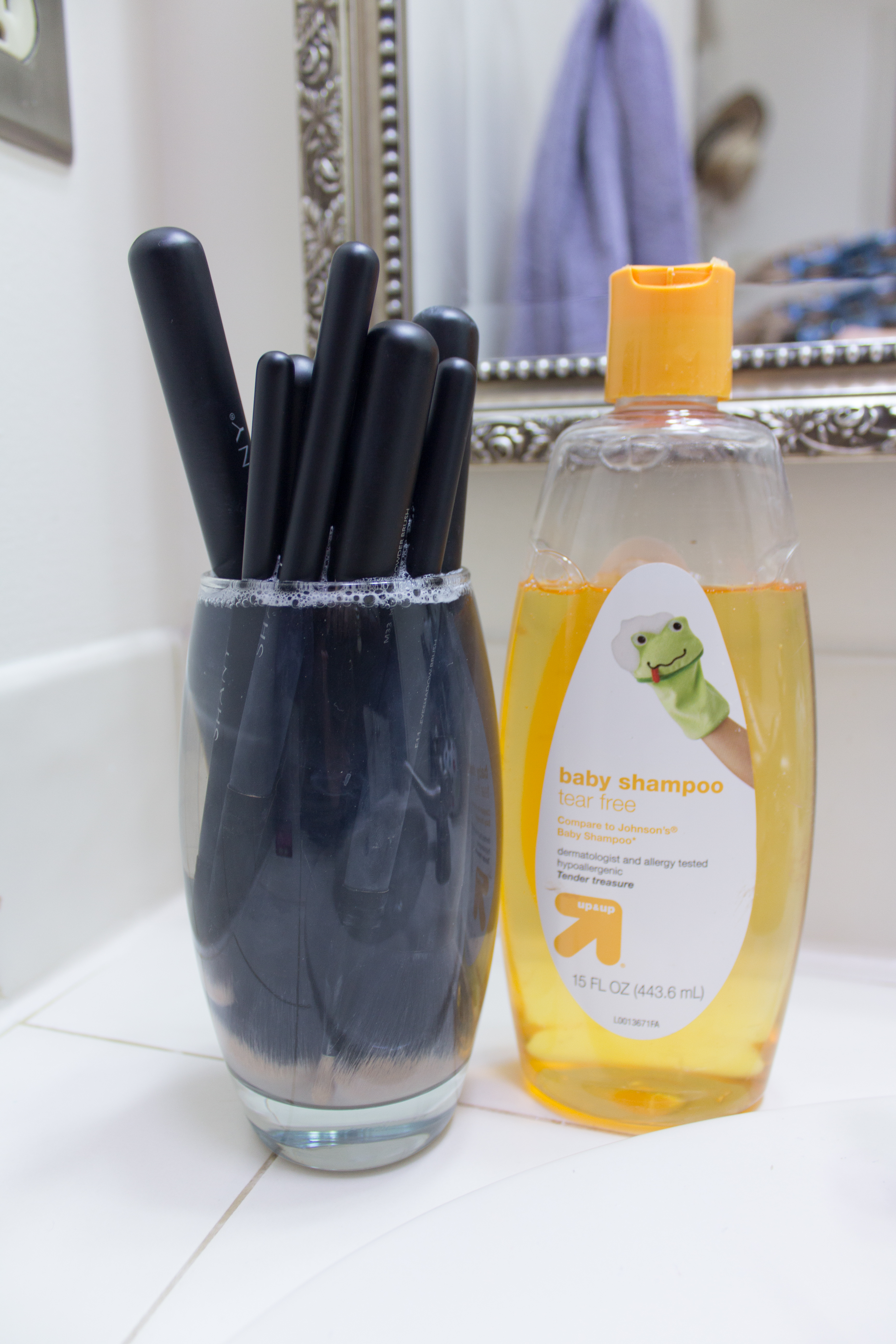 STEP ONE
The first thing you need to do is fill a glass with warm to hot water and a few drops of baby shampoo.
Next, soak the brushes in the water for five minutes. Some people recommend even ten minutes, but I would definitely keep it to a minimum. The point of soaking them is to loosen up all of the dried and caked-in makeup. Soaking them longer will result in weakened bristles.

STEP TWO
Next up, place a pea sized amount of baby shampoo on your palm and massage it into the brush's bristles. I like to swirl the brush around in my palm a few times to really get it all out. You will be amazed by the amount of makeup that comes out of your brush. Keep doing this a few times on each brush until the soap and water run clear. This means you've got all the gunk out!

STEP THREE
Next, you need to rinse the brush. Do not, I repeat, DO NOT let water run directly into the brush. Do not hold it upright – hold it downward as you rinse it out. Basically, you don't want water to damage the inside of the brush and cause it to fall apart. Rinse until the water runs clear.

STEP FOUR
Finally, blot the brush dry with a paper towel and lay flat to dry overnight.
Overall, it's a really easy process that will extend the life of your brushes years! Your makeup will go on smoother and your skin will be healthier if you do this cleaning process once a week.