Abbie is the author of The Pink Paperdoll where she blogs about fashion, design, and art. A fun fact for all my Theta sisters out there reading this, Abbie is a Theta alumna! She is so sweet and I just have loved connecting with her. I hope you enjoy her report on one of the hottest trends right now: lace.
♥♥♥♥♥♥♥
I think I can trace my obsession with lace back to my favorite American Girl doll, Samantha, who had the best lace Victorian dresses and accessories. My passion for incorporating lace into outfits continued as I grew up, and I'm very aware that seeing lace used in an especially cute way is the surest way to get me to make an impulse purchase! I may have once bought a rug because I saw it in a magazine and fell in love with the adorable lace doily pattern. My roommate at the time in our sorority house was less than impressed with our new enormous floor covering, but she was a good sport about it since she knew I couldn't help myself–it was lace! And that's just one of the many times that lace has snagged my heart and my wallet.
Well needless to say, I'm pretty thrilled that lace is really in style right now and there tons of versatile ways to wear it. You don't have to be a girly girl to embrace the lace either—there are ways for everyone to try it out this season.
Crochet
Open knit crochet tops are all over. You can wear them over a cami, a bathing suit, or a sundress. This versatile piece is showing up in all kinds of colors, so you can pick your fave. If you're afraid that lace will make you look too frilly, this type of top can be paired with jean shorts or accessorized in a way that's not too soft.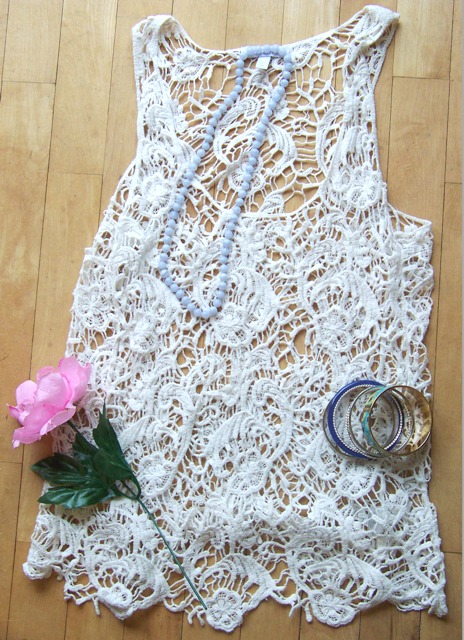 The Lace Dress
The allover lace dress is a total classic, which can be worn again in the fall with leggings. H&M sells a variation of it every summer, and I love to style my cream lace dress with a little bit of Western flair including cowboy booties and turquoise jewelry. White lace pairs wonderfully with denim and brown earthy tones.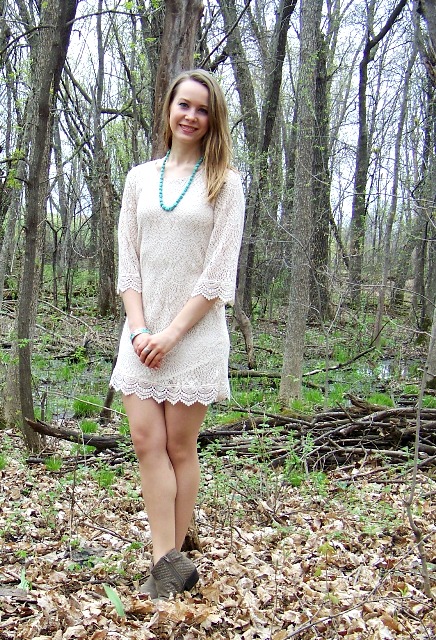 Lace Shorts
I haven't gotten a pair of these yet, but they're definitely on my summer wish list. What better way to look trendy and pretty and be totally comfortably at the same time? Look for allover lace shorts with an elastic waistband for the perfect combo of flattering and comfortable.
Lace Accessories
If too much lace is overpowering to your taste, you can add accessories that give a little pop of lace to your everyday style.A lace clutch, headband, or hair bow might be exactly what's needed for that wedding or summer barbecue you're attending.
When shopping for cute lace dresses and accessories my go-to favorites are ModCloth and Lilly Pulitzer, but with lace as big as it is right now you can likely find cute things in your style at any of your favorite places to shop. If you're crafty you might also like to try sewing a bit of lace detailing onto your denim shorts or tank tops yourself!
I hope I've converted more lace lovers to the club!
Have a fabulous summer, ladies!